Sun Safety
Now that summer is almost here so is the possibility of getting a sunburn. A sunburn is red, irritated skin that feel shot to the touch, usually appears within a couple hours after being exposed to the sun's ultraviolet (UV) light. For some people, this can happen after only a little sun exposure. Other symptoms may include blisters that develop hours to days later; skin peeling on sunburned areas several days after the initial burn; or even severe reactions-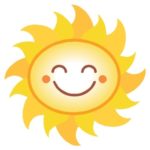 sometimes called sun poisoning-such as fever, chills nausea, or rash. Getting multiple severe sunburns increases the risk of developing skin cancers. There are, however, many ways to prevent sunburn from occurring and treat the burn when present.
The Centers for Disease Control and Prevention (CDC) suggests a few ways to protect your child from the sun's harmful UV rays whenever they are outdoors. First, you should apply and reapply sunscreen every time your child goes outside. Sunscreen should have at least SPF 15 and UVA and UVB (broad spectrum) protection. Ideally, your child should cover up with long-sleeved shirts and long pants/skirts when possible, as well as wear a hat to shade their face, scalp, ears, and neck. It is also important to remember that UV rays are strongest and most harmful during midday. Your child should seek shade during this time to prevent sunburn. If your child does get sunburned, he or she should take a cool shower or place clean, wet, and cool washcloths on the burn. If there are blisters, dry bandages may help, and creams with vitamins C and E may help limit damage to skin cells. However, doctors advise against using Vaseline or other oil based products, as these can block pores so that heat and sweat cannot escape, which may lead to infection. Your sunburned child should also wear loose cotton clothing and drink lots of water.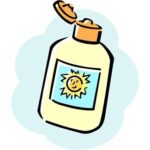 Studies have shown that, for the best protection, it is ideal to combine multiple sun protection measures. This means, for example, that shade from a beach umbrella alone does not provide enough protection from extended exposure to UV rays. Rather, your child should use a combination of the CDC suggestions provided above, such as wearing a sunscreen and a baseball hat, and using a beach umbrella. When it comes to your skin's health, it's better to be safe than sunburned! If you have any questions or concerns about your child's health in general, or in regards to skin protection and sunburn prevention, please consult with your child's primary care provider. To read more about the CDC's recommendations for sun protection, please click here.